Route Information
POINT-TO-POINT ROUTE:  Get shuttled to Big Bay where a 1.9km cold water swim will test you physically and mentally. Get out of your wetsuit and fuel up in T1, and get on your bike for a scenic 90km cycle along the coastal road and to T2 in the Cape Town CBD. Have your supporters cheer you on along the 3 x 7km run loop in the city centre.
Swim: 1.9km loop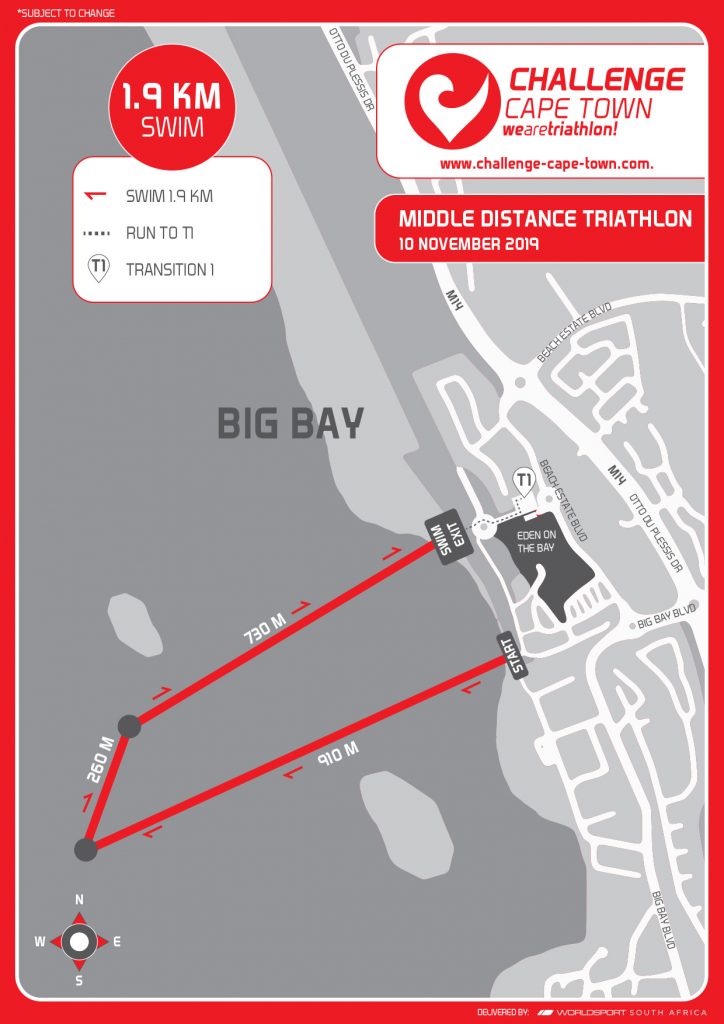 Overview 
1 lap of 1.9km
Cold water swim, with water temperatures ranging from 14 – 16.5 degrees
Anticipated wetsuit compulsory swim
Refer to our training page for training tips on how to best prepare for cold water swimming
Cut-off times are strictly enforced for safety reasons. Athletes must complete the swim in 1 hour 15 minutes. Last Athlete allowed into T1 at 8:35am.
Description
The swim will start in front of Big Bay Surf Lifesaving Club

A gun start for Elites will be followed by a rolling beach start for age groupers, which will set the swimmers off directly out to sea – catching the rip current past the rocks on the left.

After your 910m straight out swim, 2 right turns will bring you back to the shore.

Exit on the north exit of Big Bay Beach, and run up the boardwalk towards the northern car park where T1 is located.
Bike: 90km (incl. 3 loops between Dolphin Beach Hotel & Atlantic Beach Golf Estate)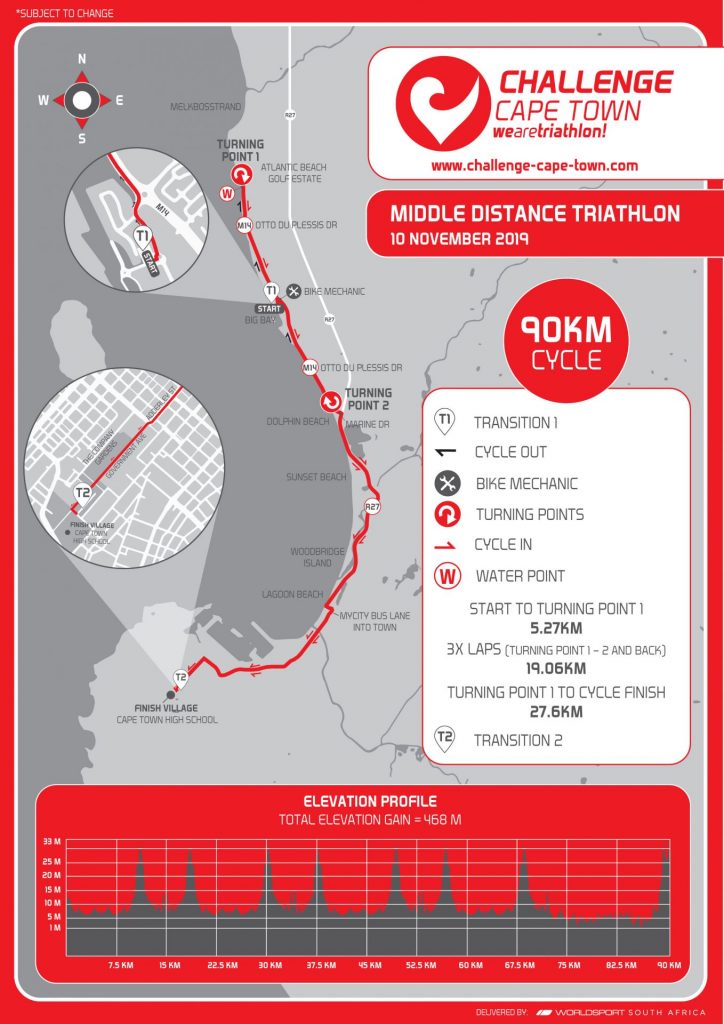 Overview
Non-drafting rules will apply
Flat and fast, with a total elevation gain of 468m over your 90km course
There are seven 180-degree turning points on course
TT, road, mountain, and hybrid bikes may be used. Recumbent and electric bikes are not permitted. For more details please refer to rules and regulations.
The use of disc wheels will be weather dependent, and a final call will be made on the day. If you are planning to use disc wheels, please ensure you bring along a spare set of normal spoked wheels in case disc wheels are dis-allowed.
Cut off times are strictly enforced for safety reasons. Athletes must complete the cycle course in 4 hours and 15 minutes (5 hours and 30 minutes after the swim start). There will be two cut off points on the Cycle course:
1. Blouberg Traffic Circle at 11:30am
2. Last Athlete allowed into T2 at 12:40am
Description
Exit T1 and continue to the bike mount line in Beach Estate Boulevard, from where you will head north.
Turn left at the traffic circle onto the M14 – Otto du Plessis Drive – and continue north in the direction of Melkbosstrand keeping in the left hand traffic lane (keep left and pass right).
Turning Point 1 is at 5.2km at the beach entrance to Atlantic Beach Golf Estate.
At Turning Point 1, you will make a 180 degree turn to head back down Otto Du Plessis Drive and back to Big Bay.
At Big Bay, continue over the first traffic circle, switching to the sea side of the M14. Follow the M14 / Otto Du Plessis Drive, through to Blouberg then over the traffic circle onto Marine Drive.
Continue Marine Drive to Turning Point 2, located just before Dolphin Beach Hotel.
At Turning Point 2, you will make a 180 degree turn to head back to Turning Point 1 on the same route, sticking to the left side of the road.
At Turning Point 1 after 24km you will have completed your first lap of the 3 lap section of the course.
Complete this loop three times.
After your 3rd lap at approximately 62.4km you will start the 27.6km route into Cape Town CBD, keeping far left when you pass Turning Point 2.
Pass Dolphin Beach Hotel on your right, and at the traffic lights turn right onto the R27 West Coast Road by crossing over to the far left side of the south bound dual carriage way.
Follow the R27 through to Milner Road, turning left at Milnerton Market into Milner Street.
From the bus station in Milner Street you will join the left hand MyCiti Bus lane that will take you through Paaden Eiland into Cape Town CBD.
Exit the bus lane at Old Marine Drive and continue past the Civic Centre on your right.
Take a left turn at the traffic circle in Heerengracht Street past Cape Town Station, where it becomes Adderley Street.
Continue straight up Adderley Street until it becomes Government Avenue.
Follow the leafy Government Avenue pedestrian lane through the Company's Garden until you reach Avenue Street, where you will dismount your bike and run into Transition 2.
Run: 21km (3 x 7km loops)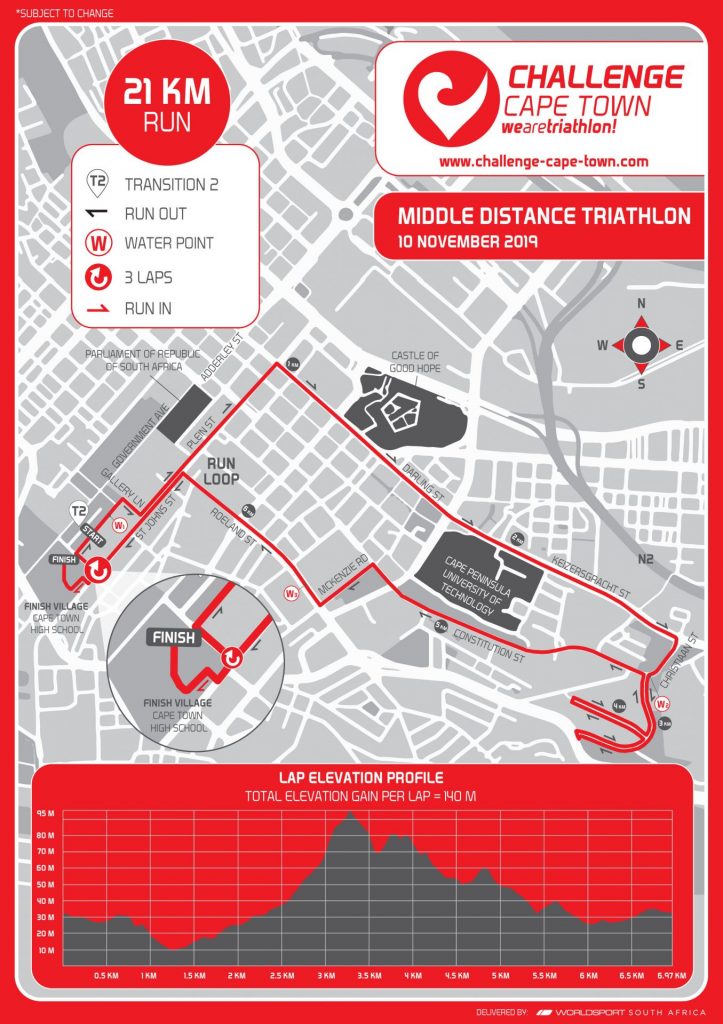 Overview
3-lap course through the heart of the City of Cape Town.
You will pass T2 on each lap which is located in the Company Gardens next to the finish village.
This is a great route for crowd support and cheering.
Undulating course with a total elevation gain of 378m over your 21km run.
Cut off times are strictly enforced for safety reasons. Athletes have 3 hours to complete the run course.  Last Athlete allowed past the Lap Turning Point at T2 for the start of their final lap will be 14:50pm
Description 
Exit T2 in front of the South African National Gallery for the start of your 3-lap run course.
Head right down Gallery Lane and turn left onto St. Johns Street.
Run past Parliament on your left and down Plein Street to Darling Street.
Turn right onto Darling Street and follow the pedestrian road to Buitenkant Street.
Turn right into Darling Street and run past the Castle of Good Hope.
Continue straight on Darling Street until it turns into Keizergracht Street.
Turn right into Christiaan Street and follow the road all the way up to De Waal
Drive.
Water Point 2 will be located half-way up the hill.
At the top, turn around and head back down Christiaan Street, turning left into Heere Street.
After a short loop in Heere Street, join Christiaan Street turning left down the hill and left again into Constitution Street.
Run past the Cape Peninsula University of Technology, over De Villiers Street and left into Makenzie Road.
Turn right onto Roeland Street where you will find Water Point 4, then head down Roeland Street towards Parliament.
Turn left in front of Parliament, heading up St. Johns Street.
Avenue Street, just before Cape Town High School, marks the end of Lap 1.
Turn right into Avenue Street and right again past T2 to start your 2nd lap of the run course.
At the end of your 3rd lap, continue past Avenue Street and turn right onto the school fields of Cape Town High School.
The last 300m will snake through the finish village on the sports field, passing numerous spectator zones before you hit the final straight.
On the last corner you will pass the family meet zone where your loved ones can join you for the final 100m of red carpet to the finish line.