Note: This is a directory service for Athletes' convenience. This service is not affiliated to the CHALLENGECAPETOWN organisers, and any correspondence must be facilitated directly with the service provider.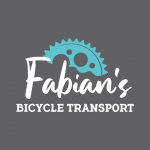 FABIAN'S BICYCLE TRANSPORT
LOCATION: GAUTENG
COST: R1,250
Bikes are transported fully assembled in an enclosed truck which does not use any boxes, but rather has a specialized racking system to ensure your bike's safety.
DROP-OFF POINTS (BICYCLES MUST BE DROPPED OFF ON OR BEFORE TUESDAY (05/11/2019)
PRETORIA:
JOHANNESBURG:
JOHANNESBURG EAST:
JOHANNESBURG WEST:
BIKE COLLECTION IN THE CAPE:
Saturday (9am – 2pm) –  TBC
Pin location will be sent.
BIKES RETURN TO GAUTENG AFTER THE RACE:
Bike collection after the event is planned for 14 November 2019 at all collection points.
For more information contact Fabian – 0829298693
fabian@bicycle-transport.co.za